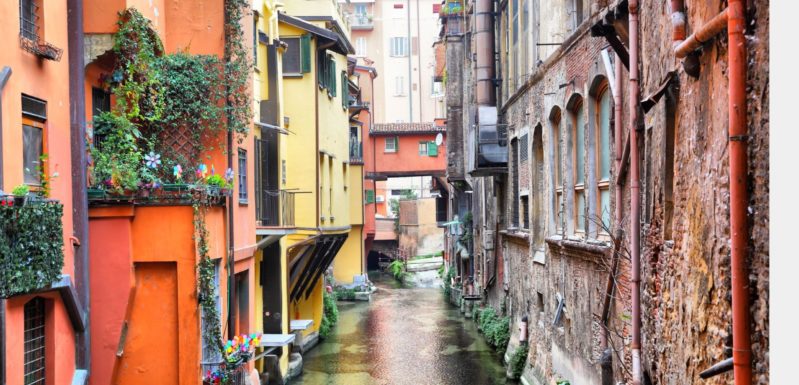 "Bologna water tour": Pestmed event
Saturday 12 February 2022
10 a.m. to 12.30 p.m.
Fee*: 45 euro
*Fee includes guide, earphones and entrance to the Opificio.
Method of payment
Payment can be made by two different methods:
Bank transfer – CARIPARMA – Crédit Agricole
Ag. Bologna Sede – via Marconi 16 (Bologna)
IBAN: IT 71 C 06230 02402 000056506569
By credit card, by clicking on the registration button
Bologna developed far from natural waterways. That is why as early as the 12th century the city was equipped with a water system consisting of dams, canals and underground pipes. The canal network contributed greatly to Bologna's economic fortunes.
For three centuries, from the 14th to the 17th century, Bologna was one of the richest cities in Europe, producing silk, hemp, leather and paper. Today, most of the canals have been silted up; however, it is still possible to visit many places that are able to make us relive the splendid history of the "Bologna of waters".
The tour starts from the Opificio delle Acque where you will discover the hydraulic history of the city and continues with a route along the Reno Canal through the historical centre of Bologna, passing by the former Manifattura Tabacchi and the Cavaticcio Canal and ending in the Guazzatoio, a stretch of the Reno/Delle Moline Canal used for watering horses and cattle, which offers one of the most evocative and romantic views of the city.
During the visit, a technical guide from the Opificio delle Acque will present a brief focus on the disinfestation and sanitation programmes that the Municipality of Bologna has reserved for the network of canals in the city.
PROGRAMME
10.00 am. Guided visit to the Opificio delle Acque
11.15 am. Coffee break
11.30 am. Tour of the Bologna Waterworks: Bronze Statue, Ex Manifattura Tabacchi, Sgrigliatore, Cavaticcio Canal, Piazzetta della Pioggia, Guazzatoio
12.30 pm. End of tour